EUROSOIL 2016 decided not to give up on Istanbul!
EUROSOIL 2016 announces the new date for their Istanbul congress which was postponed in July. The committee agreed on not giving up on Istanbul. The congress will be held in October with over 1.000 delegates.
President of ECSSS, Prof. Dr. Ahmet R. Mermut stated: ''Due to the tragic terrorist attack in Istanbul, at a time very close to the date of our Congress, we have decided not to give it up but to postpone the date. Terrorism, unfortunately, do not recognize borders and strike us almost every corner of our world.''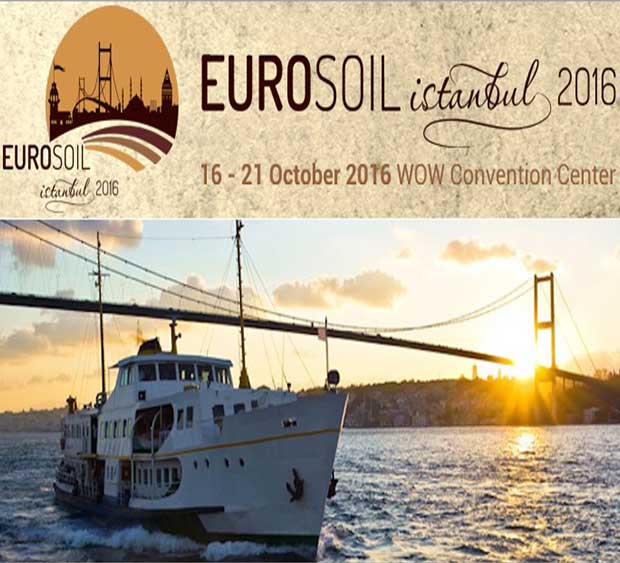 With the recommendations received from the leading scientists and figures of the national and international communities and very strong support received from the Turkish Government, the committee has decided to materialize the EUROSOIL 2016 between 16 – 21 October 2016 in Istanbul which is expected to attract over 1.000 delegates. Istanbul City Municipality will also contribute to the congress by providing a free shuttle service for delegates. The congress venue will remain the same as; WOW Convention Center & Hotel; a great complex with a capacity of 8,500 m2 near Istanbul Ataturk Airport. Furthmore, the official PCO of the congress is Istanbul CVB's member; MCI Türkiye.
EUROSOIL 2016 will be a unique opportunity to provide an outstanding setting for all participants including young soil scientists, researchers, technical and Professional operators, company representatives and policy makers to share their projects, scientific experiences, innovations and ideas about the soil science.
For more please visit: http://www.eurosoil2016istanbul.org/#