Istanbul CVB's RFP enquiries doubled at IMEX Frankfurt!
Istanbul CVB conducted over hundred B2B meetings during the 3 days show. Compare to previous year both the number of appointments and RFP enquiries for international congresses significantly increased!
Istanbul CVB, which plays an active role in introducing Istanbul in international platforms since 1997, had successfully represented the city one more time at IMEX Frankfurt which was held between 19th – 21th April. Istanbul CVB has conducted almost 110 face to face meetings. As a result of bureau's contacts; operations for future 15 international congresses and meetings; and 25 incentive work opportunities have been given green light. These events are considered to be held in late 2016 and in upcoming years from 2018 to 2020 and participants are expected in between 100 and 7.000.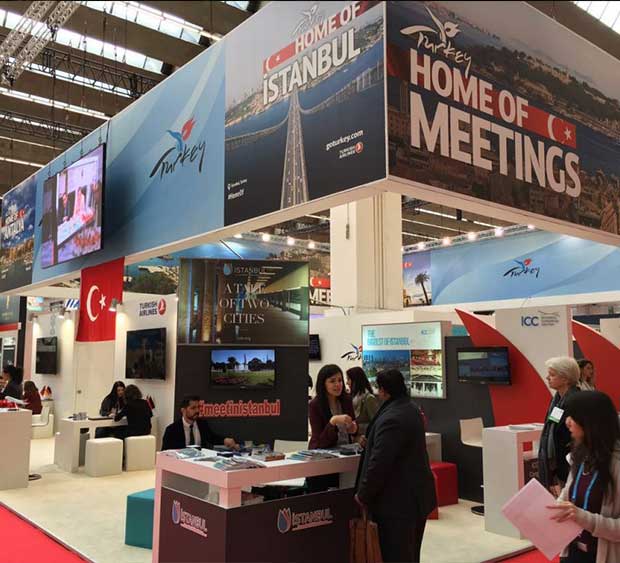 Istanbul CVB General Manager Ozgul Ozkan Yavuz added: ''Especially in these challenging days, we are extremely pleased to see that the interest to Istanbul was huge at IMEX Frankfurt. Feedbacks from both our colleagues, hosted buyers and press were very positive and they gave great support to our city! Once again, we are happy to see the numbers of appointments and business enquiries increased during the show compare to last year. As Istanbul CVB, we are proud of representing Istanbul in a best way at IMEX 2016.''
Istanbul continues to be the top place for meetings and conferences…
The world's Top 10 congress destination since 2010, Istanbul hosted 148 international congresses in 2015. Being one of the youngest population in top European Cities, city's high-quality educational institutions, cultural diversity and enviable lifestyle have transformed Istanbul into an internationally recognized city as an innovation hub. The city's 53 universities and 5 techo-parks give a clue to Istanbul being a center of learning and inspiration perfectly in line with the philosophy of meetings and events.