Istanbul re-brands – "Istanbul: The Best Place to Connect'"
Voted the world's top meeting and convention city in 2011 and 2012 for conventions of 500 delegates and up, Istanbul is expanding its target.
TUGEV-Istanbul Convention & Visitors Bureau and Istanbul Chamber of Commerce finalised their new marketing and promotional activity entitled – The Leading Congress Destination Istanbul project.
This was partly in response to the fact that Istanbul first broke into the world's Top 10 Congress Destinations in 2010 and subsequently became the world's number one congress destination with more than 500 delegates in 2011 & 2012 (ICCA statistics).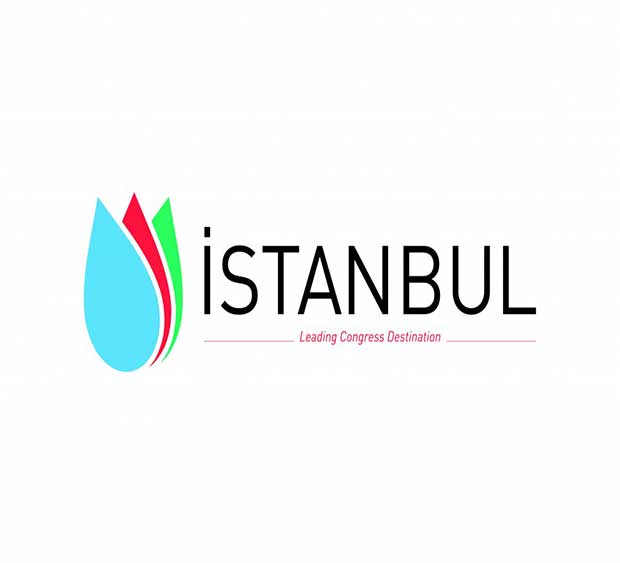 Within the overall scope of the project, Istanbul createda destination film, congress tourism website and promotional kit. Created around the needs of meetings organisers, event planners and congress delegates; the destination film includes dramatic aerial shots and highlights the city's venues; whilst brochures, maps, and DVDs will make up the kit.
With its unique location spanning Asia and Europe, its history and natural beauty, and its international accom­modation and convention facilities, Istanbul offers attractive opportunities for the meetings and events industry. The Project aims to contribute to the efforts intended to improve the ranking of Istanbul from top 10 to 5 among the world's leading congress cities by 2015.
The new Istanbul logo, having the shape of a tulip and symbolizing Türkiye and Türkiye's tourism logo, is intended to ensure continuity and wider recognition. The traditional tulip form comes with a modern touch, with its petals in the shape of a drop of water being colored with the colors of Türkiye's tourism logo; turquoise, red and green. The petals symbolize the communication and connections.
When presenting Istanbul, the Project uses the heading 'You Can…', as the core concept, and then the subtitles, You Can Visit, You Can Fly, You Can Meet, You Can Experience, You Can Stay, and You Can Taste, referring to what the city has to offer and the city's unique features, and finally closes with the slogan 'Istanbul. The Best Place to Connect'.
Istanbul the best place to connect film
The film, produced for the Project "Istanbul: Leading Congresses Destination" in two versions, each running 3 and 7 minutes, respectively, features 2 international congress delegates telling about Istanbul and what the city has to offer to congress organizations. The film was produced by a production team of 25 in 20 days and at over 100 different locations. The film, the editing process of which took nearly 3 months, comes in 5 different languages: Turkish, English, German, French and Spanish. The film is a combination of time-lapse videos, produced using a special technique to present the viewer a 24-hour panorama of Istanbul in only 24 seconds. Produced using only natural daylight, the film presents a natural, intimate and trustable atmosphere. Also an original music has been composed. Please visit www.icvb.org to view and download the film.
Printed in 80.000 copies, the Istanbul Promotion Kit features an Istanbul Leaflet, a folding map of Istanbul and a DVD. The Kit highlights Istanbul's historical and natural beauties, and the facilities it can offer the meetings and events industry.
Istanbul congress tourism website
The website at www.icvb.org has been built in 5 different languages: Turkish, English, German, French and Spanish. Developed using interactive applications, it also has informative and guiding contents that ensures easy access to congress tourism services and is intended to enrich these services. The website detailed in content, easy to use, interactive and informative. It also includes:

Interactive Map
360 Degree Virtual Tour
Venue Finder Application
RFP Application
My Istanbul Application and Guestbook
Electronic Card Application
Mobile sites and applications
The recently launched project received a wide recognition of Istanbul congress sector, the leading conventions centers, hotels, PCO/DMCs and national sector associations being the ambassadors of the project
The project items developed and produced for all industry professionals and organizations intending to promote and market Istanbul have been made available to guests at major congress centres, hotels and restaurants in Istanbul. Turkish Airlines, one of the major supporters of the Project, offers the film to its passengers in its onboard entertainment system. Turkish Airlines also makes the promotional kits available to passengers at its CIP Lounge.
With seven purpose-built convention centers and three exhibition centers large enough to accommodate even the biggest international fairs, Istanbul can easily accommodate large international congresses. With almost 100,000 total guestrooms and 94 five-star and deluxe hotels, Istanbul offers meeting planners a variety of options, including top international and domestic hotel brands.
Istanbul offers three separate but integratable meeting and exhibition clusters in the Airport District, the Conference Valley and the Golden Horn, augmented by new centers being constructed on both continents, and existing centers being updated and expanded. Combined with unique incentives afforded by Istanbul's historic venues, palaces, cisterns and more, Istanbul presents meeting planners with a variety of remarkable options to create a truly outstanding event.
Another factor in Istanbul's success as a congress destination is easy accessibility from anywhere in the world. Turkish Airlines, a member of the Star Alliance, offers more than 240 direct destination flights as the World's number 1 airline flying to more countries than any other airlines in the world.