Are You Ready For Inspiration? The Most Creative Year For Your Events!
Recognized as the region's most extentive B2B event, ACE of M.I.C.E. Exhibition by Turkish Airlines(AME) is to celebrate it's 5th birthday on February 21-23, 2018 in Istanbul – the city where continents meet-with a new motto: "Everything You Need For Your Meetings & Events Organizastion Is At ACE of M.I.C.E.
Exhibition!". Thanks to the 100,000 US dollar worth global media coverage value with the support of AME's 160 sponsors&partners, 220 national and international exhibitors -35 of them are new includes 7 new destinations will meet with 15.000+ professional visitors under one roof.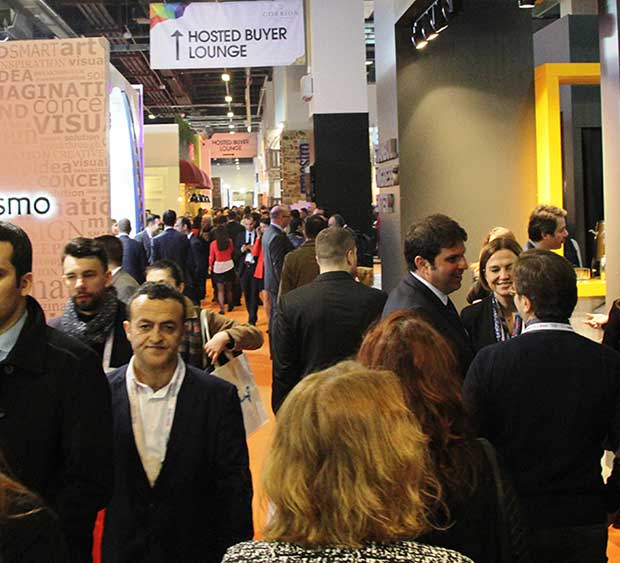 Hosted buyer application record has been broken
You can meet with 750+ MICE industry buyers from 40 countries on a perfectly functioning B2B online appointment system. Face-to-face interaction with high-level decision-makers and influencers of the industry will allow you to connect with new and existing customers. Thanks to 23 hard working buyer group coordinator, AME meticulously evaluates all hosted buyer applications. According to the AME hosted buyer policy, %70 of buyers are renewed every year and AME'2018 is ready to host 9.800 B2B appointment three days in a row.
Event technology under spotlight
This year's theme of meeting and event technology provides the perfect backdrop for an event that will focus on future opportunities and examine technological growt, developments and trends, The "TECH DAY", will address the challenges faced by our dynamic industry, and will explore the trends and shifts that impact us all.
The programme with two strong sub-themes of innovation and management, will include a variety of expert speakers, covering topics, ranging from the latest, technology and what impact it has on MICE to new ways to engage and influence audiances, both digitally and onsite. There will be practical and personal development sessions for every level of event professional and networking opportunities for all DMCs, PCOs and Convention Bureaus' Industry members and in-house event managers to connect with each other.
There is an ever-changing business and economic landscape and today, more than ever, we have to think beyond tomorrow to stay competitive and shape our future in the meetings and event industry. Moreover, "TECH ZONE" has been established for technology service providers and start-up's to promote their services, products and innovative competitiveness under the umbrella of our brand new technology pavillion. While the event and meeting industry are preparing for the year of 2018, you will have the opportunity to meet the professionals of the global MICE technology industry in the first quarter of the year. .
Fascinating sessions under the theme of "Creative Events"

Are you ready for inspiration? The most creative year for your events! There prepared a fantastic agenda lined up. There will be 15 sessions three days in a row with 30 globally well-known speakers on their sector. World's best speakers in lightening design, flower decoration and video mapping will be presenting their knowledge in a very creative way. Valerio Festi, the most famous show and feast designer in the world will share his knowledge.
Besides the two main subject, AME'18 Speakers programme is full of surprised content. The confirmed sessions are as following: Mat Johnson, forme NIKE GLOBAL Event Director, Live Experience Strategist & Owner of White Fox Consultancy ft. Mr. Bora Aksoylu, former Red Bull and NIKE Türkiye Event Manager moderated by Mr. Arkin Celik. The topic is: with the expansive reach of information in this digital era attendants are not culturally limited to their country of origin alone. Today, events all over the world provide individuals as well as brands a global experience as a result of this paradigm shift. Mat Johnson is a master of transforming innovation and uniqueness from brand values to human experience by way of events he masterminded all around the world for NIKE and more. He identifies the solution to cross the ever blurry lines that separate countries or cities through 'evolution that adapts fast', 'trusting in our own intuition' in novel situations where there are no precedents, 'confidence in your team as much as yourself while taking risks' as well as having a 'vision for the potential that the future holds'.
The Top Disruptive Technology Trends Transforming the Events and Tradeshow Industries by Corbin Ball- wprld's well known nt techonogy speaker-, CMP, CSP, DES, Owner, Corbin Ball & Co. Technology will likely change events more in the next five years than it has in the past fifteen! This interactive and information-packed session will cover the major technology trends creating these changes and what you can do to prepare for them.
Learner Objectives: Understand the important technology trends including the internet of things, virtual/augmented reality, location-based technology, wearable computing and more. Receive lots of links, apps, and ideas that you can put to use immediately. Learn steps to prepare for these changes to be able to work more efficiently and effectively.
Event Technology Trends by Dr. James Morgan, Event Tech Lab & University of Westminster. The event technology landscape is changing day by day, with exciting new products being offered to meetings and event planners. There are all sorts of options to choose from – but what is new and exciting? This multi-media session explores new logistics and production management technology for better work efficiency, technology to market and manage your events more successfully as well as technology to enhance attendee engagement with your clients' content.
Tools To Add Value To Your Clients And Events Without Losing The Human Touch by John Martinez, CEO&Founder of Shocklogic. Looking to enhance the relationship with your clients and your attendees, and keep them engaged? Wondering what technology to use? Worried about money? There's free stuff out there – so why not use it! This session will cover different apps and software solutions that will help you to achieve what you need, including Evernote, Trello, Dropbox, WeTransfer, Zoom, Whatsapp, Apple Wallet/Android Passbook, Toggl and Slack. Learn how to integrate these apps to streamline your processes, deliver great results, and achieve high ROI.
UNICEO Education Programme for Senior Corporate: Measurement – Use of Digital – Innovation – Security – Integration of New Generations with Corporate Events in the Marketing Mix, Mrs. Debora Piovesan – Congress Director, ESOT. The Marketing Mix has the most powerful channel often not valued enough: Live Communication / Corporate Events. In this conference, we will talk about "How to better position the Corporate Events you organize in your company marketing mix"
If you are a corporate senior decision-maker responsible for planning and organizing events in leading international corporations you are asked to produce the best engaging events with lower budgets and using the latest technologies available. In order to succeed, you need to communicate the importance of your events at a strategic level in the marketing mix to your top management. And they should clearly define objectives you can measure.
Working first on better communicating the value of your events and on the cross functional (and sometimes cross cultural) strategic positioning of your role will enhance the outcomes and solve many of your daily issues in particular strengthen the confidence of your internal or external clients'.
During this conference we will talk about Events as Live Communication strategy and provide you with some tips that will be fully unveiled at UNICEO 2018 International Congress.
Dakhs Sharma, Managing Director, TravHQ Media & Iffort / Skill Deveplopment Workshop, Leveraging Social Media for Travel-Trade/MICE Industry. Outline of Workshop: How to promote and position travel-agency via social media – Platforms/Tools etc. How to leverage content marketing to promote destinations. How we use travel-tech such as 360 degree videos, virtual reality etc. to promote destinations, hotels etc. How to actively engage with social media influencers. Shekar Grover, Industry Best Practices for Green Meetings and Sustainability.
China Outbound Travel and MICE Market for Türkiye, Dr. Marcus Lee, Managing Director, CEO ASIA Business Travel & MICE focuss on factors that influence Chinese corporate select destinations, top Destinations for China Outbound MICE and Business Travel Market and how to attract China MICE market effectively
Never-to-be-forgotten party, AMEzing party

You can benefit it at AME'18! Get ready for the business and entertainment together. Experience the "AMEzing Party" on the second day of the exhibition in a dome tent with magnificant 360 degree mapping show to have a chance to build new business contacts.
For more information you may contact:
Aslı Altınok Erdal
asli@turizmmedya.net
0(216) 4659556 – 0(535) 4868503
http://ameistanbul.com/