Tissue World Istanbul – the unique addition to the global Tissue World Portfolio
To take place as a full-fledged tradeshow for the first time in Türkiye, Tissue World Istanbul 2016 scheduled from 27-29 September 2016 is set to be a very unique addition to the global Tissue World portfolio, backed by sponsorship from leading tissue manufacturers from Türkiye.
The exhibition show floor will feature over 50 exhibiting companies, including a wide range of tissue industry suppliers, tissue manufacturers and tissue converters. The strong interest and support from tissue mills and converters in Tissue World Istanbul 2016 corroborate the rising importance of the tissue industry in Türkiye and across the Eastern Europe, Russia, the CIS, the Middle East, Central Asia and North Africa.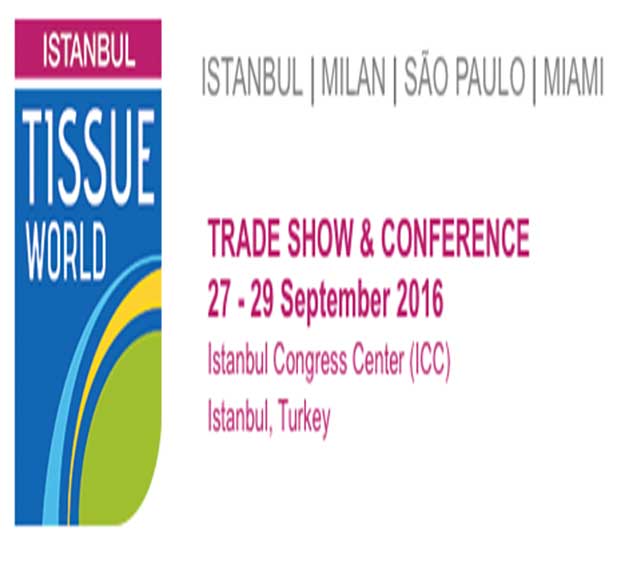 Similar to all other Tissue World events, Tissue World Istanbul 2016 features a conference alongside the 3-day tradeshow, covering critical issues and technological innovations impacting the industry.
The conference will consist of 2 main sessions: Senior Management Seminar and Applied Technology Seminar, with the key theme of "Türkiye: How can it maintain the pace of success?".
For more information on exhibition and sponsorship opportunities, please visit www.tissueworld.com/istanbul/ or email info@tissueworld.com.
Tissue World is the leading global event series serving the tissue industry worldwide since 1993. With events in Istanbul, Milan, Miami and Sao Paulo, it offers an integrated and intertwined platform consisting of exhibitions, conferences and a magazine providing an unmatched offline and online meeting place to do business, exchange ideas and learn, all year round.