Istanbul will be the next "Big thing" on the world's largest travel platform: Trip advisor!
Istanbul Convention and Visitors Bureau – ICVB is ready to manage TripAdvisor's official Istanbul promotion pages!
490 million potential travelers visit TripAdvisor each month to help them make travel plans.TripAdvisor is used in 49 countries including the US, UK, France, Russia, Germany, Italy, Spain, and the Gulf countries. As the world's largest travel platform, TripAdvisor influences the decision-making process of more travelers than any other resource.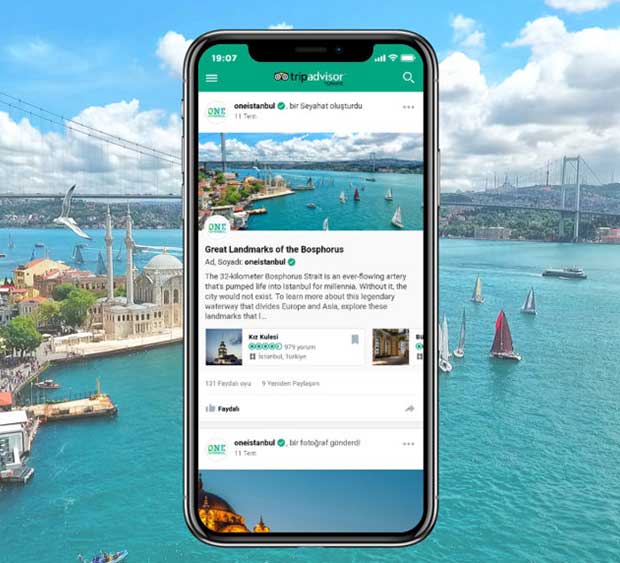 The Istanbul Convention and Visitors Bureau – ICVB have just signed a partnership agreement to manage Istanbul's official promotion pages on TripAdvisor for a year. The pages will be managed by One Istanbul, the official digital brand and destination marketing program of the city. The
official launch and press conference for the project was hosted by the Istanbul Chamber of Commerce & ICVB President Mr. Şekib Avdagiç and TripAdvisor Principal Destination Partnership Manager (Europe, Middle East & Africa) Chad Shiver at the Istanbul Chamber of Commerce.
"Today, we are taking a new step which will increase the number of visitors to Istanbul at a tremendous rate. This year, Istanbul's number of visitors will be greater than its population for the first time in its history and we are preparing our city for bigger and greater goals. We will be promoting the Istanbul brand and its products via social media integration and spreading the energy of our city to the world in a stronger way. We will also create enriched reports with in-depth analysis by using visitor engagement & usage data and providing an Istanbul visitors graphic for long-term use," said Istanbul Chamber of Commerce & ICVB President Mr. Şekib Avdagiç. "As ICVB, we are aiming to receive the "World's Number One Destination" title in TripAdvisor's rankings, and we would like to make sure that our place is long-lasting. We will represent Istanbul in an exceptional way and once again, make our big break in the global congress & event industry."
Istanbul is embracing digital transformation!
92 percent of tourists trust travel platforms such as TripAdvisor and social media comments and tips more than traditional destination advertisements. ICVB took over the official Istanbul destination pages' content and account management on TripAdvisor and is planning to create regional/themed guides to restaurants, venues, and hotels in Istanbul. The city's brands, products, and events will be promoted in the very best way on social media integrated pages. In addition, Istanbul plans to announce its digital transformation all over the world with TripAdvisor's targeted ads. By using the tools that TripAdvisor offers, the city will also draw the attention of tourists who are planning to travel to other competitor destinations.

"We've seen a huge resurgence of interest in travel to Türkiye, with a 49% gain in people viewing the country over the past 2 years. Traveler interest in visiting Türkiye is at an all-time high, and much of this growth has been fueled by Istanbul and all that it has to offer to travelers in terms of a wealth of history, culture, cuisine and hospitality," said TripAdvisor Principal Destination Partnership Manager (Europe, Middle East & Africa) Chad Shiver.
"We're thrilled to say that in 2018, Istanbul was among our users' favorite destinations in the world. In fact, the city was ranked #8 globally in our Travelers' Choice Destinations Awards. The Travelers' Choice award is the highest honor TripAdvisor can bestow and is awarded to the best of the best in travel, based on service, quality and customer satisfaction."
Instant, Accurate, and Reliable information on Istanbul for millions of travelers!
The promotional pages will increase attention towards Istanbul. Information about the beauty and the attractions of the city will now be more instantly accessible, accurate and reliable than ever before. In upcoming years, Istanbul Convention and Visitors Bureau – ICVB has the goal of Istanbul earning the title of "World's Number One Destination." The Bureau is ready to create a lasting impact in the digital world and increase tourism by actively promoting Istanbul around the world.
About Istanbul Convention and Visitors Bureau – ICVB
Established in 1997, The Istanbul Convention & Visitors Bureau – ICVB is a non-profit destination marketing organization working as a branch of Tourism Development & Education Foundation – TUGEV. ICVB's main goal is to represent Istanbul around the world and to seek international associations and corporations planning to hold high-profile international congresses and events. ICVB members include the leading corporations and associations involved in conference and incentive tourism such as hotels, conference and exhibition centers, DMC & PCOs, airlines and other companies. The ICVB, working in close collaboration with the Turkish Ministry of Culture & Tourism, the Istanbul Chamber of
Commerce and Turkish Airlines; designs and implements special events and other marketing strategies to promote Istanbul as a congress and event destination. ICVB is also an active member of international meetings industry organizations such as the International Congress
& Convention Association (ICCA) and European Cities Marketing (ECM).
TripAdvisor (NASDAQ:TRIP), the world's largest travel platform*, helps 490 million travelers each month** make every trip their best trip. Travelers across the globe use the TripAdvisor site and app to browse more than 760 million reviews and opinions of 8.3 million accommodations, restaurants, experiences, airlines and cruises. Whether planning or on a trip, travellers turn to TripAdvisor to compare low prices on hotels, flights and cruises, book popular tours and attractions, as well as reserve tables at great restaurants. TripAdvisor, the ultimate travel companion, is available in 49 markets and 28 languages.
One Istanbul is the official digital brand and the destination marketing program of this special city. Sourcing its visual content entirely from thousands of amazing social media posts by professionals and amateurs on Instagram every single day, as well as from various global and local influencers that are being hosted occasionally, One Istanbul also holds an exciting and rewarding photography contest since its inception. The main objective of this contest is to embrace and highlight globally renowned historical and cultural assets, as well as the hidden gems of this incredible city through the lens of an army of talented residents and visitors. This provides an endless flow of creativity, crowned with compelling and authentic visual content to help make One Istanbul a one-of-a-kind new generation destination marketing project.
TripAdvisor Istanbul pages: