Istanbul will host the 2018 AIPC Annual Conference at Haliç Congress Center
AIPC represents a global network of more than 180 leading centres in 57 countries with the active involvement of over 900 management-level professionals worldwide. AIPC also celebrates and promotes the essential role of the international meetings industry in supporting economic, academic and professional development.
2016 edition of the International Association of Convention Centres (AIPC) Annual Conference is held in Nantes, France between July 3-6, 2016. A wide range of speakers and sessions addressed the key issues of diversification and adaptation during the conference.
One area receiving particular attention was the panel titled "Security and Communications: a Tactical Response to Growing Challenges". Mrs. Handan Boyce, General Manager of Haliç Congress Center was the panelist with Istanbul, Brussels and Paris senior level representatives , all of whom have experienced direct impacts in recent months.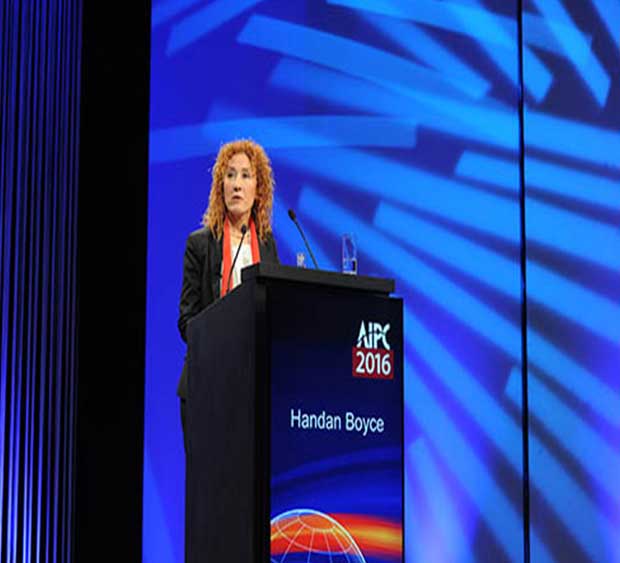 Handan Boyce started her speech with her special thanks to the AIPC leaders for their responsive approach by taking up the subject in the Conference program, and inviting her to this panel as a representative of a destination which encountered the ugly face of the threat in action.
In her speech Mrs. Handan Boyce said: "No destination is immune or safe when the subject is terror. Borders are not enough to withhold that kind of vicious mind-set, unless it is defeated with combined efforts and responsibilities of the governments. It is time to stand together and show solidarity in the greater effort to encourage and support the future of our industry and the values it stands for."
In her speech, Mrs. Boyce exchanged the knowledge of both the security measures taken by the venues and the collaboration at all level of stakeholders and local governments as proactive responses to the challenges that the destination faced during the time of crisis.
At the last day of the conference, Mrs. Handan Boyce made a presentation to the General Assembly on behalf of Istanbul for AIPC 2018 candidacy. It's a great pleasure for us to announce that AIPC members voted to accept Istanbul, Türkiye to host the 2018 AIPC Annual Conference.