OneIstanbul and Turkish Airlines partnered to further highlight and accelerate the popularity of Istanbul on Instagram
A crossroads of cultures and civilizations with one arm reaching out to Asia and the other to Europe, Istanbul is blessed with magnificent monuments, its unique cityscape and the breath-taking Bosphorus running through.
Launched in April 2015, as a collaboration between Istanbul Metropolitan Municipality, Istanbul Chamber of Commerce and Istanbul Convention & Visitors Bureau, with a vision to become the key source of inspiration and information for both residents and visitors, One Istanbul is the official city marketing program. The official social media handle @oneistanbul and the hashtag #oneistanbul are being tagged by thousands of amazing posts by professionals and amateurs on Instagram every single day.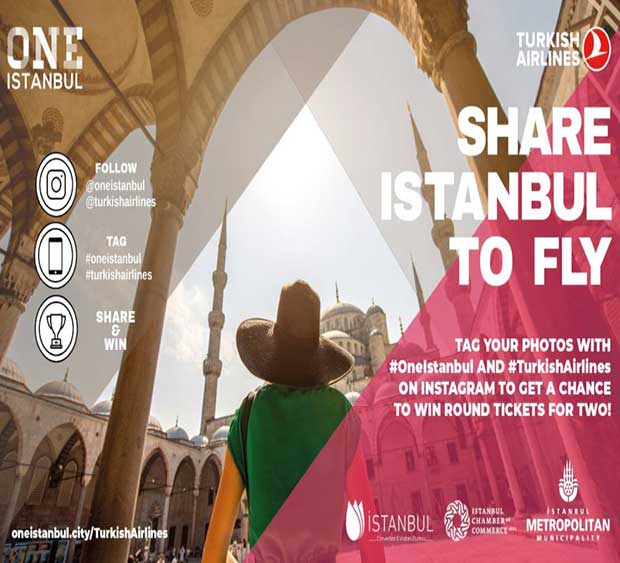 Istanbul's globally renowned beauty, historical and the cultural assets inevitably make Istanbul one of the most photographed cities on the planet. It's no wonder Istanbul comes in the first five of most photographed cities in the world. This impressive success is also a result of One Istanbul Instagram Contest. This success of One Istanbul's Instagram contest also drew the Türkiye's national flagship carrier, Turkish Airlines' attention and above mentioned three sides decided to launch "Share Istanbul to Fly", an open-to-public worldwide social media contest with amazing rewards.
"Share Istanbul to Fly" is open for global participation of all Instagram users. All you have to do to join the contest is to follow @oneistanbul and @turkishairlines on Instagram, and tag #oneistanbul and #turkishairlines in the captions. The winners will be selected by the members of a selection committee depending on the qualitative characteristics of the entries. 
Top three winners of the contest will be rewarded by Turkish Airlines flight tickets. The winner of the contest takes business class round-trip long-haul tickets for two, the second wins a business class round-trip short-haul tickets for two and the third wins an economy class round-trip short-haul flight ticket for two.
For more information and the terms & conditions of "Share Istanbul to Fly" contest, please visit http://oneistanbul.city/turkishairlines/